Enjoy making your own homemade Weather Protection
Fluctuating temperatures are brutal to sensitive skin.
The skin on your face, throat and hands are the most vulnerable to damage due to their constant exposure to wind, sun, pollution and extreme temperature changes. Fortunately, you can make your own homemade protective cosmetic creams to help shield your skin against these weather extremes. The creams help to maintain the acid mantle, the naturally acidic, protective coating that guards the skin against irritation and bacterial growth.

Tip: Make homemade natural cosmetics last longer by adding jojoba oil, which is a liquid wax and therefore does not go rancid.
If you enjoy this site please share it with others.
Weather-Protection Cream Recipe
Depending on your individual skin type, choose between the following oil-based and water-based creams.
Oil-based cream
2 tbsp. sweet almond oil
2 tbsp. jojoba oil
1 1/2 tsp. beeswax
10 drops German-chamomile, calendula or carrot-seed oil
Heat sweet-almond oil, jojoba oil and beeswax in a double boiler just until the beeswax is melted. Mix well. Add the final essential oil. Pour the mixture into a 2-oz. cosmetic jar; the cream can be stored for up to 1 year.
Water-based cream
1 tbsp. grape-seed oil
1 tbsp. jojoba oil
1 tsp. beeswax
2 tsp. rose water
1/4 tsp. borax
Heat the oil and and beeswax in a double boiler just until the beeswax is melted. In a separate container, heat the rose water then stir in the borax until it dissolves. When the oil mixture and water mixture are the same temperature, whisk the water mixture into the oil. Store the cream in a 2 oz. jar for up to 1 month.
Individual Cosmetic Additives
You can adapt lotions for your skin type using the following recipes, which are made for 2 oz. of cream
For normal skin
10 drops vitamin-E oil
5 drops orange essential oil
For dry skin
10 drops calendula essential oil
15 drops aloe-vera concentrate
2 drops coriander-seed essential oil
For broken capillaries
10 drops German-chamomile oil or
10 drops vitamin-E oil or
10 drops blue-cypress essential oil
For temperature fluctuations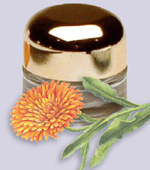 Fluctuating temperatures are brutal to sensitive skin. Protect your skin with the following lotion:
6 drops German-chamomile essential oil
6 drops calendula essential oil
6 drops carrot seed essential oil
Add these to 2 oz. of water-based cream.

Application:
Using your fingertips, gently massage the lotion into your face, neck and chest in a sweeping upward motion.
Ingredient Benefits:
Protect your skin from winter weather: The skin is subject to particular stress in winter. To guard against damage from cold, dry air, apply a moderately thick coat of a pure oil-based cream to cleansed skin. It will protect against dry skin and broken capillaries. Remove the oil-based cream before spending time in heated rooms. Otherwise, your face could sweat under the layer of oil-based cream resulting in shiny skin and clogged pores.
Moisture treatment with aloe-vera: Sea water, sand and sun can dry out the skin. To prevent damage, apply a cream containing aloe-vera after showering. A moisturizer, aloe-vera leaves the skin healthy and elastic.
Protecting against injuries: When gardening, your hands and nails can be dried out - or even injured- by the soil. To keep this from happening, apply a thick layer of oil-based cream to your hands and fingernails and gently massage it in. This will enable dirt to be removed more easily after gardening and will make it more difficult for foreign bodies to penetrate the skin.
For rough hands: A water-based cream containing the antioxidant vitamin E and A can prevent infection of hands with tiny cracks and other wounds. Add German-chamomile or calendula essential oil to the cream, and rub it into your hands several times a day.
Monthly Specials at Earth Angel Oils
Thank you for your interest in "Make your own Natural Beauty Recipes". I have partnered with Earth Angel Oils to bring you some of the finest Essential Oils for your recipes. For the highest quality, all Earth Angel Oils and Blends are lovingly handcrafted in small batches from 100% pure essential oils. They do not contain any artificial ingredients or carrier oils, and were developed to be gentle and safe for direct application to the skin or diluted in carrier oils such as olive oil, jojoba oil, and unscented massage oil.

Each month Earth Angel Oils offers many of their popular individual oils and blends at substantial savings of up to 60% off current prices! You can look forward to this page being updated with fresh content near the first of every month, so please be sure to stop by again around that time.
Join Our Free Newsletter

and
Get This FREE
brand new E-Book

"A-Z Reference Guide"

which includes links to all the recipes on this site plus
Ingredients Benefits
and HOW TO TIPS.
We value your Privacy