Enjoy making your own homemade Facial Spa Pack
Always prepare for a facial spa pack with a pre-pack scrub.
If you have oily skin and acne a facial pack may be just what you need. A facial spa pack treatment supplies moist heat and helps to removes deep-seated impurities. It is applied as a thick layer (unlike facial masks). A facial pack used regularly will provide moisture to dehydrated skin; oily skin can be dehydrated just like dry skin. Facial packs provide a more intense cleaning and supply your skin with minerals that are crucial to maintaining a healthy, taut complexion without dryness.

Tip: Never scrub skin roughly in an attempt to cleanse more thoroughly.
Extra Tip: For additional conditioning, put on your usual night cream before you apply the facial pack. This adds an extra layer of penetrating moisture to the treatment.
If you enjoy this site please share it with others.
Facial Pack Recipe:
For acne
2 tbsp. French green clay
2 drops thyme essential oil
1/2 tsp. jojoba oil
For oily skin
2 tbsp. ground oatmeal
1/2 tsp. wheat-germ oil
2 - 4 tbsp. hot sage tea
1 tbsp. ground flaxseed
Clean the skin thoroughly with a pre-pack scrub.
Carefully mix the ingredients together and apply the mixture while it is still warm.
Relax for 20-30 min. while the pack does its work.
Pre-pack scrub
1 tbsp. finely ground oatmeal
1 tsp. non-fat yogurt
Apply the blend to damp skin - face, neck and
neckline and massage gently for several minutes. Rinse and apply
a pack immediately.
For the Neckline
People with acne often tend to breakout in the neckline are. A nourishing pack is beneficial in deep-cleaning this area and disinfecting existing blemishes. Follow the directions (above) doubling the quantities, and apply a pack twice weekly to the upper chest and neck.
Enzyme Pack
1/2 cup freshly mashed papaya
1 tsp. fresh pineapple juice
To combat oily, acned skin and surface dehydration, mash the papaya and combine it with the pineapple juice until thoroughly mixed and smooth. Gently pat this onto your face and neck. You may want to place a towel around your head and behind your neck, as this mask may be a bit runny. Your face may tingle a bit - it means that the ingredients are working properly. Leave this mixture on your face for 15 min., and then rinse. The enzymes in these fruits will help dissolve and lift away dry-skin scales which can, over time, build up on your skin, clog pores and result in a dull appearance.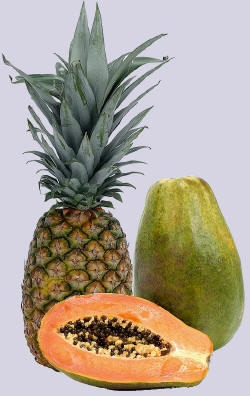 For dry, chapped skin
2 tbsp. cream
1 tbsp. fresh carrot juice
2 tbsp. oat bran (fine)
Heat the cream and the carrot juice in a water bath until the mixture is warm.
Stir the oat bran into the cream and carrot juice and let stand for 5 min.
After cleansing, use a brush to apply the warm pack generously to the skin of your face, neck and upper chest.
After 20-30 min., carefully remove the pack with a moist cloth. Freshen your skin with an alcohol-free toner; then apply a thin layer of skin-care cream.
To intensify the regenerating effect of this pack, add 5 drops of neroli oil.
For dry, sensitive skin
1/2 small ripe avocado
1 egg yolk
1 tbsp. carrot juice
1 tbsp. oat bran (fine)
Cut the avocado in half and remove the pit and skin. Mash the flesh with a fork.
Whip all ingredients together in a small saucepan, then heat the mixture in a water bath until it is just warm. Apply the pack to your skin while still warm.
After 20 min., rinse with warm water and refresh your skin with an alcohol-free toner. Apply a thin layer of skin-care cream.
German-chamomile oil calms the skin and relieves redness and irritation. Stir 3 drops of oil into the prepared pack as needed.
For Eye Area Fine Lines
To reduce puffiness and fine lines around the eyes with a quick treatment, mix 2 tsp. of cold whole-milk yogurt with 1/2 tsp. of flaxseed meal. Apply the paste around your eyes in a thin layer. Cover your eyes with moist cotton pads. Gently wipe off the paste with a tissue after about 15 min.

Application:
Prepare your skin for an (acne and oily skin) pack with the oatmeal-yogurt scrub. Then, with your fingers, apply a pack thickly, leaving the eye area uncovered. If the pack is a bit gooey or runny, lie down for the 20-30 minutes you leave it on. Rinse with warm water and pat dry. Finish the treatment by massaging in a moisturizer or aloe-vera gel, which will add moisture to the skin's surface.
To prepare for dry, chapped or sensitive skin pack use a brush or your fingertips to apply the pack to freshly cleaned, damp skin. Place a medium-thick layer on your face, throat and chest. Rinse off after 20-30 minutes. Treat your skin to a conditioning pack once a week. Note: For more intense benefits, apply while taking a bath. The rising steam relaxes the pores and warms the skin, making it easier for the nutrients in the pack to penetrate.
Ingredient Benefits:
French Green Clay: A powdery, astringent "healing earth" called French green clay may be purchased in health-food stores. This mineral-rich clay reduces sebum production and keeps moisture in the tissues.
Conditioning jojoba oil: Jojoba oil is really not an oil at all but a plant wax, similar to human sebum. Rich, thick and gentle, it penetrates the skin deeply.
Soothing oatmeal: Old-fashioned oatmeal will refresh and calm inflamed, acned skin and help heal blemishes.
Wheat-germ oil: Rich in vitamin A and E, wheat-germ oil fights free radicals, and helps heal blemishes. Added to sage tea, wheat-germ oil seals in much-needed moisture. Even oily skin can be moisture starved on the surface; when this occurs, the skin pumps yet more oil in an attempt to lubricate the top layer.
Sage: Antiseptic and anti-inflammatory sage helps curtail and heal existing pimples. To prepare sage tea to use in a facial pack, simply pour 1 cup boiling water over 1-2 teaspoons of dried sage leaves, steep for 10 minutes and strain.
Cream for chapped skin: The high fat content of heavy cream will nourish dry and overly sensitive facial skin and give it a relaxed, well-cared-for appearance.
Carrots for conditioning: The vitamins and minerals in fresh carrots will condition stressed skin and help it maintain its natural resilience. Carrot juice is very calming to irritated or sunburned skin.
Avocado for sensitive skin: The essential fatty acids and vitamins in fresh avocado regenerate the skin while they nourish, invigorate and restore the uppermost layer. This provides protection against minor sun damage, chapping and small wrinkles. The vitamin E in avocado benefits the connective tissue from the inside out and counteracts cell damage.
Egg yolk for elasticity: The lecithin in egg yolk is completely absorbed by the skin and used as "skin food." Yolk gives the skin a fine, rosy appearance and maintains the elasticity of its upper layers.
Oat for strength: Oats contains silicic acid, which strengthens the skin and increases its immunological response. This protects chapped and dry skin from irritation and from such conditions as eczema.
Join Our Free Newsletter

and
Get This FREE
brand new E-Book

"A-Z Reference Guide"

which includes links to all the recipes on this site plus
Ingredients Benefits
and HOW TO TIPS.
We value your Privacy