Benefits of making your own homemade Dead Sea-Salt Bath
To help with oily skin or acne, rinse your skin daily with a sea salt bath solution.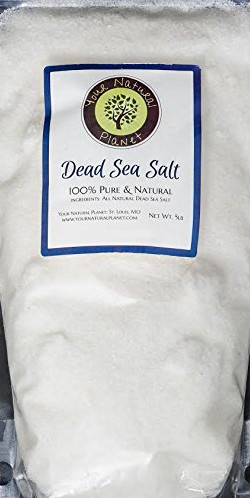 Fine Grain 0mm-.2mm 100 % Pure and Natural Dead Sea Salt Harvested From Beer Sheva Isreal. Contains No Anti Caking Additives or Conditioners. Dead Sea Salt is Not Food Grade and is Not for Human Consumption.
The idea of a sea salt bath comes from the knowledge that the ocean has great healing powers. The human body is made of approximately 65% water. Seawater is very similar to human blood in its combination of minerals and trace elements and this helps to explain its healing effects in the body. The benefits of sea-salt bath are many. A sea-salt bath can remove waste products, promote circulation and supports healthy skin function. By flushing metabolic wastes and accumulated fluid out of the tissues, sea-salt baths are beneficial in protecting against cellulite and edema. Adding dried seaweed to your bath further conditions, restores and moisturizes the skin.

Tip: Massaging your skin with a loofah or a brush during a bath will enhance the circulatory and detoxifying effects of the sea salt. As an added benefit It reduces the accumulation of water in the tissues, firms the skin slightly and even helps protect against cellulite.
If you enjoy this site please share it with others.
Dead Sea-Salt Bath Recipe
For Skin Ailments
Dead Sea Salt - 100% Pure Bath Salt - For Psoriasis, Eczema, Arthritis, Dermatitis, Acne, Dry Skin, Dandruff, and Other Skin Disorders. Highest Mineral Content for Cleansing and Detoxifying. Relaxes Skin and Muscles
This mixture is especially beneficial for such skin conditions as acne, psoriasis, eczema, oozing poison ivy and poison oak.
1 lb. Dead-Sea salt
3 tbsp. seaweed powder
Thoroughly mix the Dead-Sea salt and seaweed powder in a glass container with a lid. Use up to 1 cup of bath salts in a bath.
For Normal Skin
2-4 effervescent bath tablets
1 lb. coarse or fine sea salt
1 lb. baking soda
5 tbsp. seaweed powder
Crush the bath tablets with a mortar and pestle; then add to the other ingredients. Thoroughly mix in a glass container with a lid. Add up to 1 cup to your bath.
Exclusive Gift Idea
Scented sea salts for the bath, displayed in a decorative bottle, can make a special surprise gift for a friend. You can add dried herbs and flowers for a colorful variation.
1 lb. course sea salt
50-60 drops of lavender or rose-geranium essential oil
1/2 cup dried lavender buds or rose petals

Put the salt and the essential oils in a glass container that can be tightly capped, mix well and let stand for 2 weeks in a dark place. Then arrange the salt and the dried flowers in alternating layers in a glass bottle and cap tightly. Use 8-10 tbsp. of the blend for a tub bath.
Note: For added effect, tint the salt with oil-based food coloring. Mix a small amount of sea salt with whatever colors you prefer, and then mix the colored salt in with the rest.

Application:
Run hot water into your bathtub and dissolve up to 1 cup of sea salt in it. Then add cold water until the bathtub reaches your body temperature (98.6ºF) Bathe for no more than 10-15 minutes; this will keep you from placing too much strain on your circulation. If you have normal to dry skin, rinse before applying lotion, but if you have oily skin, you needn't rinse off. Apply lotion to your body, cover up well and rest for at least one hour.
Ingredient Benefits:

Rich in minerals: Sea salt, which is available at most health-food stores, contains a higher mineral content than regular table salt, has not been bleached with chemicals and is believed to be more effective in a bath. Sea salt is obtained by evaporating seawater that has been purified and filtered multiple times. It consists of about 80 percent sodium chloride and 20 percent minerals and trace elements. Salt that comes from the Dead Sea is especially rich in potassium, magnesium, iodine, bromine and sulfur. These substances remove waste products from the body and can help protect against cellulite and edema in the tissues of the skin. Coarse- and fine-grained forms of sea salt are available; both types are effective when added to a therapeutic bath.
Baking Soda for enhanced effects: Adding bicarbonate of soda (baking soda) to a sea-salt bath can leave the skin feeling clean and smooth. Baking soda also enhances the stimulating effect on the circulatory system, provides a refreshing quality and helps soothe skin irritations and itchiness. For fizzy bubbles, you can add 3-4 effervescent antacid tablets to your bathwater before stepping in. The tablets will not harm your skin and simply add to a "spa" effect. Baking soda can be purchased at pharmacies and grocery stores; carbonated bath tablets are available in some bath shops.
Monthly Specials at Earth Angel Oils
Thank you for your interest in "Make your own Natural Beauty Recipes". I have partnered with Earth Angel Oils to bring you some of the finest Essential Oils for your recipes. For the highest quality, all Earth Angel Oils and Blends are lovingly handcrafted in small batches from 100% pure essential oils. They do not contain any artificial ingredients or carrier oils, and were developed to be gentle and safe for direct application to the skin or diluted in carrier oils such as olive oil, jojoba oil, and unscented massage oil.

Each month Earth Angel Oils offers many of their popular individual oils and blends at substantial savings of up to 60% off current prices! You can look forward to this page being updated with fresh content near the first of every month, so please be sure to stop by again around that time.
Join Our Free Newsletter

and
Get This FREE
brand new E-Book

"A-Z Reference Guide"

which includes links to all the recipes on this site plus
Ingredients Benefits
and HOW TO TIPS.
We value your Privacy