Enjoy making your own homemade Neckline Care
Enhance the appearance of your bust-line through better posture.
The upper part of your chest requires special care as it has little subcutaneous (meaning under the skin) fatty tissue. This makes it particularly sensitive to damage from intensive sun exposure and environmental toxins, leading to blemishes and premature wrinkles. Wearing bras that are too tight may create lasting wrinkles on the upper chest. Our easy-to-make skin care cream can provide the neckline's most urgent need; moisture and lipids, thereby helping you to maintain soft youthful skin and an attractive neckline.

Tip: You can enhance the effectiveness of your neckline cream by applying it and then lying down and covering your chest with a warm, slightly damp towel for 5 min.
If you enjoy this site please share it with others.
Neckline Cream Recipe
Neckline Cream
When preparing the neckline cream, do not allow the ingredients to boil. Overheating may cause granules to form in the cream, making it lumpy or even separating it.
1 tbsp. sweet-almond oil
2 tbsp. grape-seed oil
1 tbsp. cocoa butter
2 tsp. beeswax
1/4 tsp. borax powder
3 tsp. orange-blossom water
20 drops neroli oil
Combine the sweet-almond and grape-seed oils with the cocoa butter and beeswax in a double boiler. Heat just until the beeswax and cocoa butter have melted. Blend the mixture thoroughly.

In a separate pot, heat the borax powder and orange-blossom water until the borax crystals have dissolved.
Drizzle the hot borax combination into the hot olive oil mixture, stirring constantly until it forms a creamy emulsion.
Let the cream cool until it feels just barely warm to the touch; stir in the neroli oil and mix thoroughly. Transfer the cream to a 4-oz. jar.
Note: the shelf life of this cream is about 2 months. When refrigerated, however, it will keep for up to 4 months.
Intensive Neckline Care
Treat yourself once a month to this gentle and firming yogurt-and-peach mask. Peel 1 small, ripe peach, mash it with a fork and combine it with 5 tbsp. of yogurt. Stir to form a creamy mixture. Spread on the upper chest and breasts and leave on for 20 min. Rinse off and apply neckline cream.
Quick Neckline Care Oil
For a quick neckline oil, add 5-10 drops of rose essential oil to 1/2 cup of jojoba oil. For very dry skin, add 5-10 drops of palmarosa essential oil. Massage into your neckline.
For a beautiful bust
Enhance the appearance of your bust-line through better posture. Make the conscious effort to stand up straight and tall at all times, with your head held high and shoulders back.

A gentle sea salt exfoliation can help stimulate circulation in the upper torso while removing dead skin cells. Dampen your skin and rub it gently with some finely ground sea salt and a bit of olive oil. Then wash off thoroughly.

Application:
Each day, cleanse the skin of the neckline and chest; then spread cream or oil evenly into the area. Gently message the lotion into your skin. Make sure that the cream or oil has been thoroughly absorbed before you get dressed, to avoid staining your clothing. Dab away excess cream or oil with a tissue.
Ingredient Benefits:
Healthful beeswax: Melted wax from the bees honeycomb serves two purposes: It helps support the skin's natural ability to retain moisture and it acts as a thickening agent for the cream.
Nourishing grape-seed oil: Oil produced from grape seeds has a very fine consistency, which makes it particularly well suited for use in light skin-care lotions. Grape-seed oil also helps nourish the skin without leaving a feeling of greasiness.
Softening sweet-almond oil: The delicate oil pressed from sweet almonds is tolerated well by all skin types. Sweet-almond oil is easily absorbed by the skin; it can also help make the sensitive area of the upper chest soft, smooth and elastic.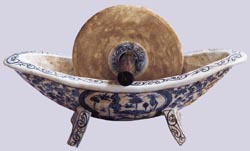 Skin-toning neroli oil: Neroli essential oil, which is obtained from bitter-orange flowers, has a warm and rather intoxicating floral scent. It can benefit mature skin that lacks suppleness, vitality and tone. Neroli oil also has a mild sedative effect and can help relieve anxiety and insomnia.
Invigorating orange-blossom water: This flower water is a by-product of the steam distillation of neroli oil. It has the fresh, sweet scent of oranges and invigorates the skin.
Join Our Free Newsletter

and
Get This FREE
brand new E-Book

"A-Z Reference Guide"

which includes links to all the recipes on this site plus
Ingredients Benefits
and HOW TO TIPS.
We value your Privacy