Enjoy making your own homemade Clay Beauty Treatments
This gift of the earth is known to contain a great wealth.
Mineral rich clays have played their role in religious customs, medicine and the cosmetic field. Volcanic ash, rock, plant and animal particles have over millennia been ground together all of which make it a great absorber to draw toxins and oils from the skin. Noteworthy healthful benefits come from a great wealth of minerals it contains; including magnesium, calcium and zinc all of which are beneficial to condition the skin, for pain relieve and revitalize the body.

Moneysaver Tip: Turn your bath into a mineral spa: Add 1 cup of white cosmetic clay to running bathwater. Soak in the tub for 20 min. Afterwards, apply moisturizer.
If you enjoy this site please share it with others.
Clay Treatments Recipe:
Clay Mask for oily skin
1 tbsp. French green clay
2 tsp. water
In a small bowl, combine the French green clay and the water.
Stir the clay-water mixture to remove any lumps: You should have a paste thick enough not to run off the skin.
Apply a thick layer to your (clean) face and throat; then, allow the mask to dry for 20-30 min. Rinse off the paste with cold water; follow if desired with a light moisturizer. You can use the mask up to 2 or 3 times a week. Note: You can also spot-treat pimples with the paste. Leave on overnight to absorb excess oil.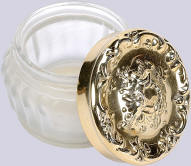 Foot Powder
1/2 cup white cosmetic clay
1/2 cup baking soda
2 tbsp. zinc-oxide powder
1 tsp. orange or rose-geranium essential oil
Mix the clay, baking soda and zinc-oxide powder in a food processor or a medium-sized bowl.
Add the essential oil a few drops at a time, taking care to blend well.
Sprinkle the powder into your socks and shoes 1-2 times a week. Store the powder in a shaker jar or in a box with a cosmetic puff.
Note: You can also use this mixture as a body powder after bathing to keep your skin cool, fresh and dry.
Pack for Arthritis Relief
Chamomile or lavender tea
French green clay
Add the cooled tea to enough of the clay to form a paste that will be able to spread very easily.
Apply a thick coat to affected joints.
Wrap the pack first with a soft cloth and then with plastic wrap.
Leave on for 30 min.

Application:
Clay's ability to absorb excess oils and toxins through the skin makes it a very effective base for deodorant foot and body powders, a beneficial treatment for acne, an almost essential ingredient in natural cleansers for oily skin and a soothing additive to baths for aching muscles. Depending on its use, you may apply clay topically as a paste, sprinkle it in powder form onto your body or soak in a solution of clay and water.
Ingredient Benefits:
Components: Different trace minerals and plant materials, depending on the clay's origin, create clays with different properties and different colours, including white and green (the most popular) as well as yellow, red, brown, black and grey. White clay contains magnesium, silica, aluminum oxide, zinc and calcium; green clay also contains silica, calcium and magnesium, along with potassium, sodium, iron and, of course, plant materials that give it its hue.
White and green clays: White clay is the best choice for normal, dry and sensitive skin. It's also the best clay for use in powders, deodorants and bath additives. French green clay, with its rougher texture and greater astringency, is excellent for oily skin and for treating conditions that require exfoliation, circulation stimulation and toxin removal, such as acne and eczema.
Clay baths for sore muscles: Health spas offer clay or mud baths in which the body is submerged for up to one hour. The warm, thick, therapeutic mud can relieve muscle soreness resulting from sports injuries, overexertion or tension. After rinsing off, an hour of rest is usually prescribed.
Join Our Free Newsletter

and
Get This FREE
brand new E-Book

"A-Z Reference Guide"

which includes links to all the recipes on this site plus
Ingredients Benefits
and HOW TO TIPS.
We value your Privacy