Enjoy making your own homemade Massage Oils
Always use cold-pressed plant oils as a base for massage oils
Massage oils help to achieve the desired effect of the massage therapist's treatment, be it to promote relaxation, healing or stimulation. Essential oils such as rosemary essential oil; improves blood flow and circulation, geranium essential oil; relaxes the body and mind, easing pain and tension, all have a different role to play.

Moneysaver Tip: Natural plant oils keep only a limited time. Therefore, mix base oils with essential oils only in small quantities, and then be sure to store prepared massage oils in a cool place, in dark glass bottles. They'll keep for approximately 6 months.
If you enjoy this site please share it with others.
Massage Oils Recipe
Base Oils
When making massage oils, use a base oil that is appropriate for your skin type (below and right). Then add any desired essential oil. Shake the massage oil before each use to mix it. Always store your oils in a dark, cool place - for up to 6 months only - and always use an opaque glass bottle with a tight cap.
For dry skin
1 oz. sesame oil
1/2 oz. jojoba oil
1/2 oz. almond oil
For oily skin
1 1/2 oz. grapeseed oil
1/2 oz. jojoba oil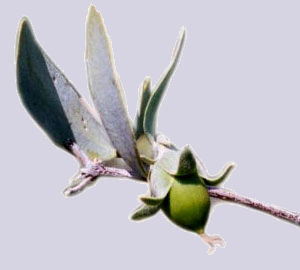 Massage Oils
For sore muscles
2 oz. base oil
6 drops juniper essential oil
4 drops cypress essential oil
5 drops lavender essential oil
5 drops German-chamomile essential oil
For stress and exhaustion
2 oz. base oil
5 drops coriander seed esssential oil
5 drops geranium essential oil
5 drops lavender essential oil
3 drops orange essential oil
To stimulate the senses
2 oz. base oil
15 drops peppermint essential oil
5 drops rosemary essential oil
5 drops eucalyptus essential oil
Caution!
It is not advised to undergo massage therapy when suffering from acute infectious illness. A massage strongly stimulates blood flow and has the potential to spread bacteria and viruses throughout the body. If you have varicose veins or scars, let the massage therapist know because they can become inflamed when massaged. The affected area should be avoided during treatment.

Application:
A relaxing bath followed by a whole-body massage is an effective therapeutic treatment. Add selected essential oils to a base oil that is appropriate for your skin type. After you dry off, massage the oil gently into your skin using circular movements.
Ingredient Benefits:
Sweet-almond oil: This delicate oil is pressed from sweet almonds. It is not too greasy and is appropriate for every skin type. It makes the skin soft and increases the elasticity of the skin surface. Sweet-almond oil is also used as a conditioner for dry hair to treat and nourish the scalp.
Grapeseed oil: Grapeseed oil is thin-bodied and is one of the lightest oils. It is clear in color and has hardly any odor. Its thin consistency allows it to penetrate rapidly into the skin, quickly transporting healing components into skin tissue. Grapeseed oil is particularly good for mixed skin types, as well as greasy skin with blemishes or acne.

Jojoba oil: Jojoba oil is pressed from the nutlike seed of the jojoba bush. Because of its chemical structure, it solidifies into a wax at 45°F. Appropriate for sensitive skin, jojoba oil is highly penetrative and adds extra fluidity to a massage blend. Because it is expensive, you may want to blend it with other quality base oils.
Sesame oil: This delightful, medium-bodied, golden oil is pressed from the sesame seed. It's good for all skin types, especially normal-to-dry skin, and is used for psoriasis, eczema and arthritis.
Join Our Free Newsletter

and
Get This FREE
brand new E-Book

"A-Z Reference Guide"

which includes links to all the recipes on this site plus
Ingredients Benefits
and HOW TO TIPS.
We value your Privacy