Enjoy making your own homemade Hand and Nail-Care Treatment
If your eyes are the windows to your soul, what story do your hands tell?
Most people don't take the time to care for their hands properly. Treatments for natural hand-care are easy to make and will help keep the skin soft, smooth, supple and even youthful.
For the best cream that works naturally to firm, nourish and protect your skin make your own Hand Care Treatment.

Take Care Tip: Do not use carrot-seed essential oil if you are pregnant or epileptic, since it can trigger premature labor and seizures. Instead, substitute calendula oil.
If you enjoy this site please share it with others.
Ready Made Hand-Care and Nail-Care Treatment:
Use often to soften hands. Removes dryness and roughness. Perfect for all skin types. 100% NATURAL.
Drawing on traditions and folkloric beliefs, we have created the most innovative herbal hand cream with activity based on plant stem cells.

Do you have cracked or brittle nails? Are they damaged from excessive use of nail glue and other nail products? Wish you had thicker healthier nails? Use Elma 09 to improve the look of your nails. It fights nail fungus and relieves nail infections. Elma 09 speeds up nail growth and repairs the nail at a faster rate.

Hand-Care and Nail-Care Treatment Recipes:
For dry skin
4-5 tbsp. castor oil
10 drops carrot-seed essential oil
This hand-care treatment is good for dry, brittle, weak nails and cuticles. It is useful for strengthening the nails and promotes healing of cracked and dry cuticles. Blend the oil in a small bowl, then put your fingers in the mixture and allow them to soak for approximately 5 - 10 min. Dry them off, and then use a nail file wrapped in a soft cloth to carefully push back your cuticles toward your skin. Then apply moisturizer. Repeat this treatment weekly. Note: Store the left over oil in the refrigeration, where it will keep for about a month.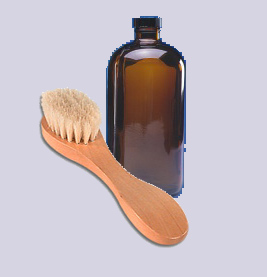 For sun-damaged skin
4 tbsp. finely ground oatmeal
1 tbsp. plain yogurt
2tbsp. cocoa butter
2 tsp. fresh pineapple, lemon or strawberry juice
1 tsp. hazelnut oil
If the skin on your hands is dry, blotchy or damaged from overexposure to the sun, try this treatment, which can soften and smooth your skin and lessen irregularities. Combine all the ingredients in a small bowl until they form a paste. Allow to sit for 1 min. or so, to thicken; then apply the mixture to the back of your hands using a small spatula. Wait 15-30 min., or until the mixture has completely dried. Rinse your hands in cool water and pat dry. Apply a moisturizes. Repeat 2 times each week.
Preventive Measures
Keep your hands looking and feeling soft and smooth by taking a few simple steps. One of the best ways to prevent premature aging of the skin is to apply a sunscreen with a sun protection factor (SPF) of 15 or greater to your hands whenever you are outdoors. Vitamin-E oil is another effective skin treatment; apply it to help heal small cuts and nicks on your hands. Also, wear gloves when using chemical cleaners.

Application:
Remove all traces of nail polish with a nonalcoholic nail-polish remover. This will allow the natural conditioning ingredients in the hand-care treatment to penetrate not only your hands but your nails as well. Then wash your hands in warm soapy water and scrub your nails with a nail brush; dry your hands thoroughly.
Ingredient Benefits:
Castor oil for dry skin: Thick and translucent, yellow castor oil is derived from the castor bean. An emollient, the oil is particularly good for brittle nails and dry skin, because it provides a heavy protective layer tha5t seals in moisture and soothes the skin.
Carrot-seed essential oil for healing: The oil extracted from crushed carrot seeds has an earthy, warm fragrance and can help nourish, tighten and revitalize the skin. It also promotes healing of minor wounds, making it especially effective for treating chapped hands and cracked or weak cuticles.
Oats, yogurt and fruit juice for skin tone: Finely ground oats act as a gentle exfoliant and can remove dead skin cells. They also possess a mild bleaching property, helping to reduce spots and blotches on the skin. Yogurt contains small amounts of lactic acid, which has a mild germicidal action and helps maintain the skin's pH balance. The citric acid in fresh fruit juice also helps to even out blotchy skin.
Hazelnut oil to soften skin: Light and penetrating, this oil is suitable for all skin types; it softens and conditions your hands and cuticles. Made from the pressed kernel of the hazelnut, the pale-yellow oil is rich in vitamin E and fatty acids and has a mild, nutty fragrance. It also resists going rancid.
Join Our Free Newsletter

and
Get This FREE
brand new E-Book

"A-Z Reference Guide"

which includes links to all the recipes on this site plus
Ingredients Benefits
and HOW TO TIPS.
We value your Privacy