Enjoy making your own homemade Steam Facial
It may seem obvious, but you should keep your eyes closed during a steam facial.
A walk in the great outdoor, clean fresh air would do wonders for your complexion, but unfortunately, most of the time your face is bombarded by dust, exhaust fumes and other airborne toxins. Give your face a fighting chance by routinely having a steam facial. This helps to deep-clean the skin and enliven dull, lackluster complexions. The steam opens the pores so that the herbal essences rising in the steam can permeate and detoxify the deeper layers of the skin. The heat spurs blood flow, hydrating the skin further; the herbs provide nourishing minerals. Fragrant and relaxing, steam facials keep your complexion clear, fresh and glowing.

Tip: After your facial, let the herb mixture cool. Then strain out the herbs and use the water as fertilizer for your plants. All the blends suggested here will work.
If you enjoy this site please share it with others.
Steam Facial Recipe
Herb Mixture for Facials
The herbs in these blends release their healing properties in the steam, cleansing pores of debris, impurities and oil. All the herbs are used dried, except watercress, which is always used fresh. These have proven to be desirable steam facial products.
For normal skin
2 tsp. lemon-balm leaves
2 tsp. rose petals
2 tsp. lavender blossoms
2 tsp. linden flowers
For dry, sensitive skin
2 tsp. chamomile flowers
2 tsp. fennel seeds
2 tsp. rose petals
2 tsp. arnica flowers, calendula flowers or comfrey leaves
In a large measuring cup or medium-sized bowl, combine all ingredients and gently stir to blend, keeping foam minimal. Pour into 3, 8-ox. plastic squeeze bottles. Keep 1 in the shower and the other 2 in a cool cabinet or refrigerator until needed.
For blemished skin
2 tsp. thyme leaves
4 tsp. fresh watercress
2 tsp. arnica flowers
2 tsp. nettle leaves, peppermint leaves or yarrow blossoms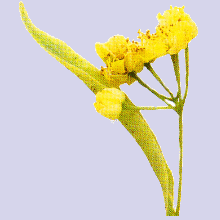 Toners for Freshening
After a steam facial, always freshen your skin with a toner to help remove the dead cells, cool down the tissue and close up the pores. The toner you choose depends on your skin type. Below are a few easy suggestions for you to use.
Normal skin - Add 1 tsp. of apple-cider vinegar to cold water. Apply with cotton pads.
Dry, sensitive skin - Smooth cool whole milk over your face with cotton pads. The milk both nourishes and moisturizes.
Blemished skin - After your facial, apply an alcohol-free toner, such as rose water or witch hazel, with cotton pads.
Be sure to follow the freshener with a moisturizer, to seal in essential moisture.
Protect yourself
It may seem obvious, but you should keep your eyes closed during a steam facial. This prevents them from turning red from the heat and keeps out the sweat, which can sting. Caution: If you have rosacea, facial sunburn or dilated or broken capillaries on your face (this is called couperose skin), you should not use steam facials at all. These treatments will only make such conditions worse.

Application:
Place herbs (choose according to skin type) in a large bowl. Pour in 4 - 5 cups of boiling water, and steep, with the bowl covered, for 5 minutes for normal and for blemished skin and 8 - 10 minutes for dry, sensitive skin (so the water is a bit cooler). Uncover the bowl, bend low over it and cover your head and the bowl with a towel to form a tent. Keep the eyes closed, and breathe slowly. Allow the steam to work for 3 minutes for dry, sensitive skin, 5 minutes for normal skin and 8 - 10 minutes for blemished skin. How often you use a facial also depends on skin type: once a week for dry, sensitive skin, 1 - 2 times a week for normal skin and twice a week for blemished skin.
Ingredient Benefits:
Soothing linden flowers: Linden flowers make a gentle tonic for dry and sensitive skin. They calm inflammations and leave the complexion fresh and clear.
Healing arnica flowers: Antiseptic arnica is a good remedy for skin irritations. Its flowers disinfect blemished skin and help heal acne, stimulating blood flow and reducing swelling.
Antibacterial thyme leaves: Thyme leaves exude an intense and warming fragrance, and are a strong antibacterial agent. Add thyme leaves to steam facials if your skin is plagued by acne, psoriasis or poison ivy.
Toning lemon balm: Lemon Balm firms and tones slack, limp skin. It's especially useful for cleansing normal skin and healing oily, acned skin.
Mineral-rich watercress: Mineral-deficient skin is lackluster and slack. Watercress offers up its minerals to provide nourishment. Gently astringent, watercress also tightens and tones the skin for a smoother feel.
Join Our Free Newsletter

and
Get This FREE
brand new E-Book

"A-Z Reference Guide"

which includes links to all the recipes on this site plus
Ingredients Benefits
and HOW TO TIPS.
We value your Privacy